Little Dragons Class (Age 4-6)
Here at The U.S. Taekwondo Center, it is never too early to begin your Taekwondo training. If your child is ages of 4 to 6 years old, bring them in and class will help them to improve focus, coordination and more! During class we will play games, learn Taekwondo and most of all, have fun!!
Children Class (Age 6-12)
Our children classes will get your child in great shape and we will also help teach them how to resolve conflicts and bullying peacefully.  Reinforces ideals of courtesy and respect!!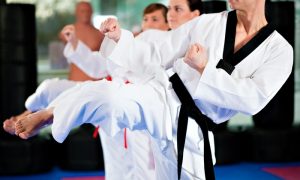 Teen-Adult Class (Age 13 and Up)
Teen-adult program is the perfect activity for adult who would like to learn self-defense and get into great shape at the same time!
Learn valuable self-defense techniques and improve your focus and concentration skills.
We commit to your success!!
Family Class (All ages are welcome)
Family training is one of the few activities the entire family can enjoy side by side.
Parents and children spend quality time together in a healthy activity that naturally develops mutual respect.
Demo Team(Adult & Junior)
Our Demonstration teams are composed both children and adults team. Demonstration is not about just showing off their technique, and how good you are; the goal of our team is to demonstrate their training level in front of various audiences.
Students learn how to work together as a team and helping each other to get better in specific technique. Demonstration team requires a lot of training and determination. Also, they are the representative for our school, and demonstrate our 5 Aims of TaeKwonDo in their everyday life.
Olympic Sparring (All Ages)
Sparring is an Olympic Sport that involves full contact kicking and punching. Students are fully protected with head gear, a chest protector, arms and shin guards, mouth pieces & etc. The goal of TaeKwonDo Sparring is not fighting- but learning how to use your skills against your opponent in the best possible way.
Sparring training can be hard and intense; however It can be fun too. If your passion is train hard and wins the competition, this is the right class for you.
Interested in trying a class? Stop by our facility at 608 E Center Street in Manchester, give us a call at 860.646.9500 or send us a message in the form below!  We would love to hear from you.